Today's Prize:
Railway Pushcart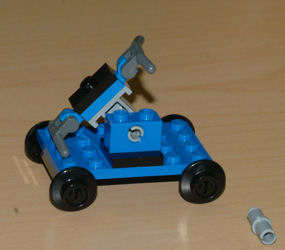 Okay, so it's not holiday themed. Sure, there's not track for it to run on. Still, today's advent gift is pretty swanky. This little railway pushcart fits nicely into the "Train" theme that ends with today's door. (Well, should end with today's door. Why LEGO would break with tradition this late in the game is beyond me, but I suppose it could happen.)
Meanwhile, back in the Advent Stream, a good chunk of time has passed...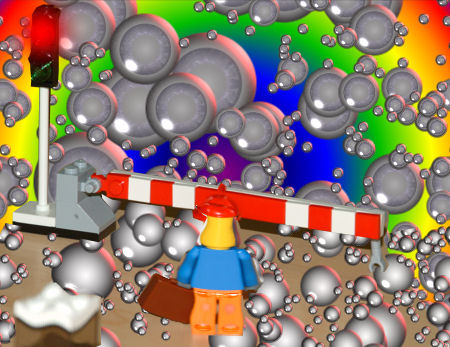 Guardian: AND THERE YOU HAVE IT. IN THE FULLNESS OF TIME, THE CIRCLE IS NOW COMPLETE.
Jack: That's ....quite a story. But don't you see? You have to let me pass now. I'm the only one with a real chance of stopping this.
Guardian: THE CONDUCTOR SHOULD ALREADY HAVE ENDED THE ILLEGAL ACCESS TO THE ADVENT STREAM. AS OF NOW, IT IS "STOPPED."
Jack: You really don't get it, do you? Even if the Conductor stopped all new deliveries from the Stream, the damage has already been done. Or, rather, is about to be done.
Guardian: IT IS POSSIBLE YOU HAVE A POINT.
Jack: Look, just let me through!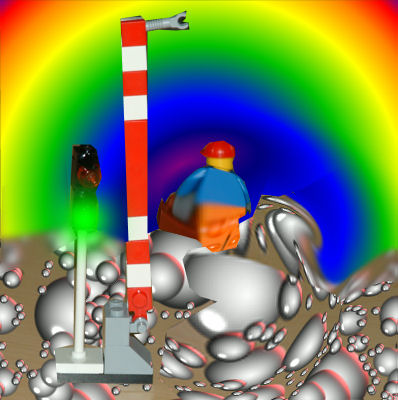 Guardian: FINE. BE THAT WAY. I WILL ALLOW YOU TO PASS. BUT BE WARNED! THE PATH BEYOND MY GATE IS NOT AN EASY ONE. THERE ARE AT LEAST A COUPLE OF PERILS TO BE OVERCOME BEFORE YOU WILL RETURN TO YOUR OWN TIME. YOU MUST BE CAUTIOUS.
Jack: You're a swell ....whatever you are. I'll send you a postcard when all this is over.
Guardian: FOR ME IT HAS ALREADY ENDED. AS IT IS BEGINING ANEW NOW.
Jack: Whatever. Don't wait up.

Jack: I was right! The further I go from the Guardian, the fewer freaky special effects I have to deal with. If I put enough distance between us I'm sure to be back in focus.
Jack: Er. "Back to reality."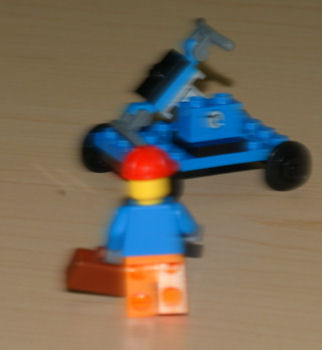 Jack: And there's just the thing to put the miles on the trip odometer. I've never worked one of these before, but I've seen enough of them in cartoons to get me started...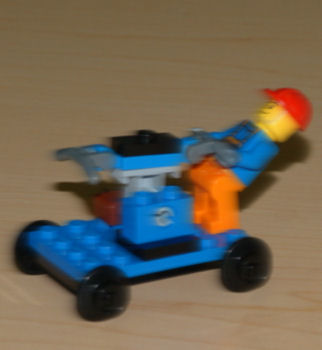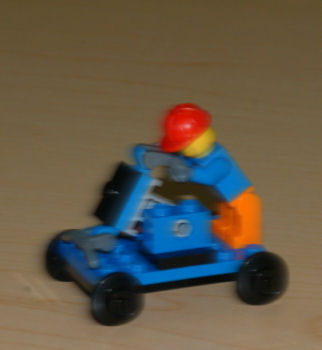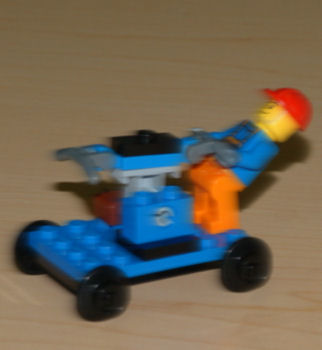 Jack: Hrm. For all that pumping I don't seem to be moving at all.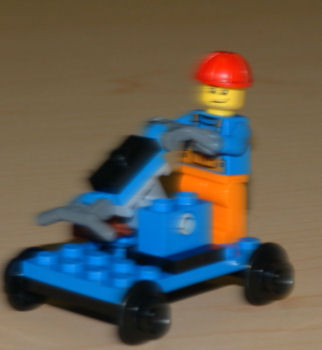 Jack: There's got to be a trick to this...
Mysterious Off-Camera Stranger: Perhaps I can help.
| | |
| --- | --- |
| Total Parts in Set: | 257 |
| Parts in Today's Door: | 18 |
| Parts to Go: | 105 |