Today's Prize:
The Janitor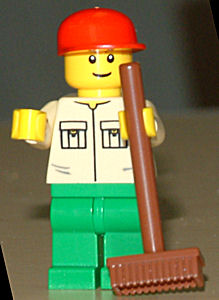 Ah, a 3x+1 day in the LEGO Advent world. That means time for a new theme, and a new leading mini-figure. So far this year we've had the Construction Worker, the Airport Worker, The Doctor, and the Guy From The Train Universe. Who will be joining the cast today?
Hrm. Well, he has a broom, but no other real clues.
I guess he's a Janitor.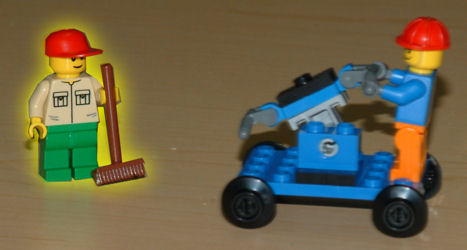 Jack: Who are you? I thought I was the only one mucking about in the Advent Stream.
The Janitor: Well, except for those of us who work here, sure.
Jack: "Work here"?
The Janitor: Sure. You've already met the Guardian, I presume.
Jack: That I did.
The Janitor: Well, he's sort of a middle-manager. There are a few of us who report to him...it...whatever. We do our part to keep the Advent Stream nice and orderly.
Jack: Oh. Right. Like the Conductor.
The Janitor: You've met the Conductor?
Jack: Well, no, but the Guardian was telling me about him.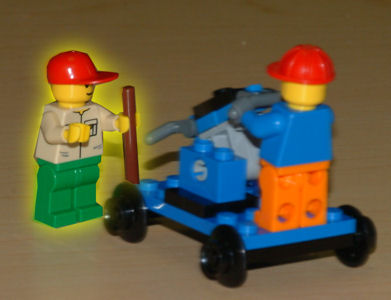 The Janitor: Pray you never have to meet the Conductor. He seems jolly enough at first, but he has a knack for leaving huge body counts in his wake.
Jack: Noted. Say...I don't suppose you could help me get this thing going?
The Janitor: Your Cosmic Hand-cart?
Jack: I knew it was a hand-cart. "Cosmic" is new to me.
The Janitor: Well, to move around in the Advent Stream takes more than just a rhythmic pumping action. We use these carts to travel from point to point - from Day to Day.
Jack: But I can't seem to get it to move at all.
The Janitor: Well, you need to enable the system with one of the Backstage Totems. Like ol' Betsy here.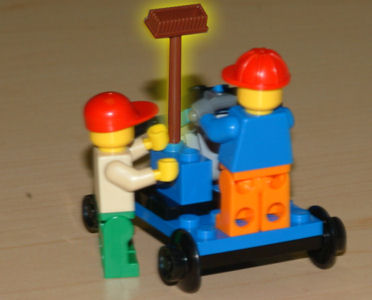 The Janitor: There. Now just let me take the other side of the handlebars and we can move this plot along.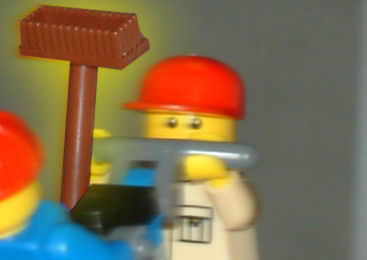 The Janitor: So...when to?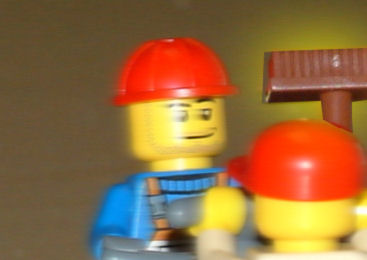 Jack: We can go...whenever?
The Janitor: Any Day you want. One all the way through Twenty Four.
Jack: How to you tell what "now" would be? I got sucked into the Stream what feels like weeks ago.
The Janitor: The Guardian should have told you..."now" means nothing on this side of things.
Jack: How about an event? Can we lock in on something like that?
The Janitor: Sure. What do you have in mind?
Jack: Set course for the moment the Conductor puts the lenses in the trash. That should give me enough time to put things right.
The Janitor: Okey dokey. Start pumping!

| | |
| --- | --- |
| Total Parts in Set: | 257 |
| Parts in Today's Door: | 5 |
| Parts to Go: | 100 |