---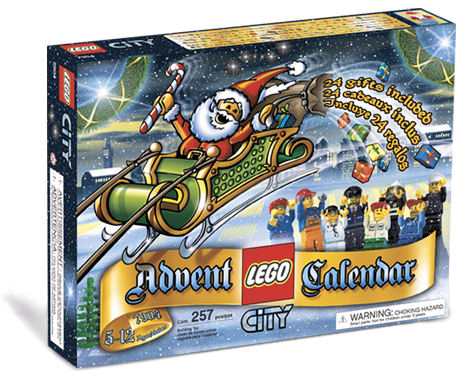 LEGO Advent Calendar 2006
It's that time of year again - time for a daily dose of LEGO joy as we count down the days until the 25th. For the past couple of years I've picked up LEGO's Advent Calendar and shared each day's joys with the Web. This year will be no different.
(If you'd like to read last year's adventure, click here.)
Like the 2005 calendar, this year's theme is "CITY". Which means a bunch of mini-figures with only a very tenuous link to any sort of Holiday theme. Oh, I'm sure there'll be a Santa at some point. But will he arrive in time to stop the mayhem the other figures are sure to create? I don't see an obvious criminal on the box front this year, but that's no promise that the other figures aren't harboring dark secrets and unmedicated bi-polar conditions.
Anyway, each day I'll be opening a door and documenting what I find inside with my usual inane commentary and amateur photographic skills. I recommend you pick up your own LEGO Advent Calendar (you can get one on-line at http://shop.lego.com) so you can play along at home. But if you'd rather just look over my shoulder, that's cool too.
To make this as "realistic" as possible, I've recreated the panel of doors below. Just click on the door/number for today's date and see what's inside! (I've "enhanced" the number to make them easier to see. On the real box front they're almost impossible to spot!)
---
---
Portions of this site make extensive use of Macromedia Flash.
If you're not seeing anything above the line you may need the free Flash Player. Get it here.

This site displayed with 100% post-consumer recycled electrons.

LEGO® is a trademark of the LEGO Group, which does not sponsor, authorize or endorse this web site.
Please be sure to visit the REAL LEGO homepage at http://www.LEGO.com.

All Content ©1986-2009-through the End of Time by Christopher Doyle
|
| Read updates on your

Livejournal Friendslist