---
Title
Builder
Use of pieces in set 7695
(20 points)
Understanding
of "Remission"
Theme
(30 points)
General Coolness
and that
Funky-Fresh feeling
(50 points)

Total & Ranking

Dance, Baby, Dance, Mobile Astro Disco
Wolf Read
20
21.6
25

66.6 Points

11th Place
Judge Notes: "Like the concept, but without the text description couldn't see the theme", "Thanks for the commentary"
Notes from Builder:
Here's Mars ReMission set 1977 (the year that "Saturday Night Fever" melted down the big screens), titled "Dance, Baby, Dance, Mobile Astro Disco".
Note the nice floor that accomodates at least two figures. The landing struts serve to elevate the floor when the vehicle is on the ground.
The music box also serves as the ship's primary drive. Controls for funk and flight can be found there.
This is the perfect first-contact vehicle for fun under the Maritan sun.
As the underside photo shows--this set is reinforced for playability. Though extreme dancing on the floor has been known to occasionally cause the landing gear to break.
Note that this set makes use of every piece from the the 7695 Astro Fighter, save the 1x4 finishing plate, which can be tacked on optionally for extra funkafication. No extra pieces were used: just the one Astro Fighter.
The funky background that adds so much to the festivities in the photos was hand-drawn by my 5-yo daughter. :o)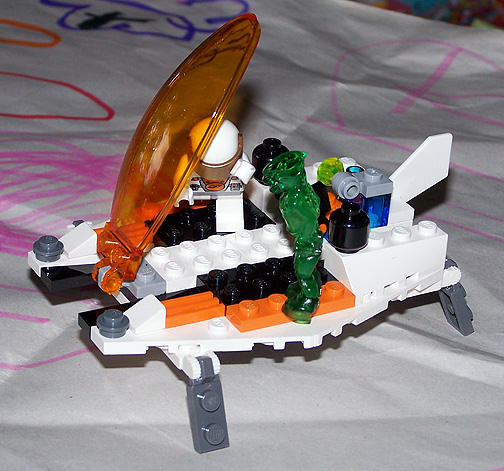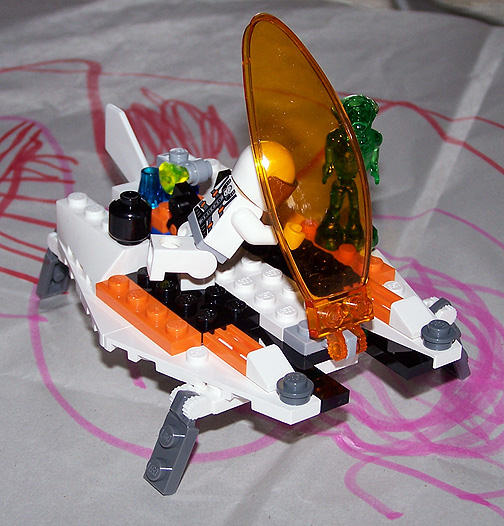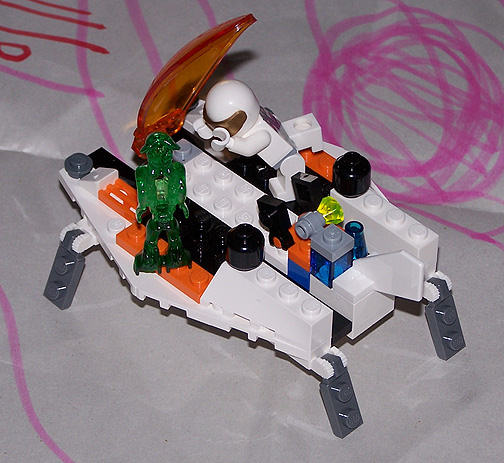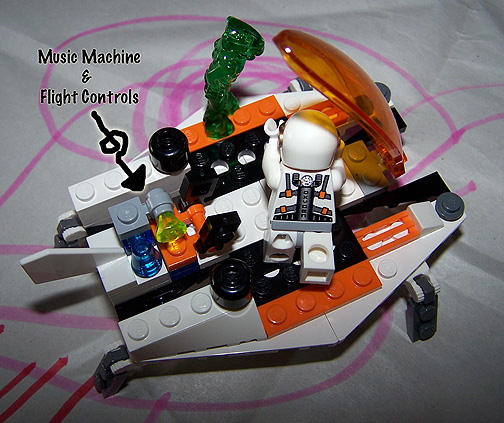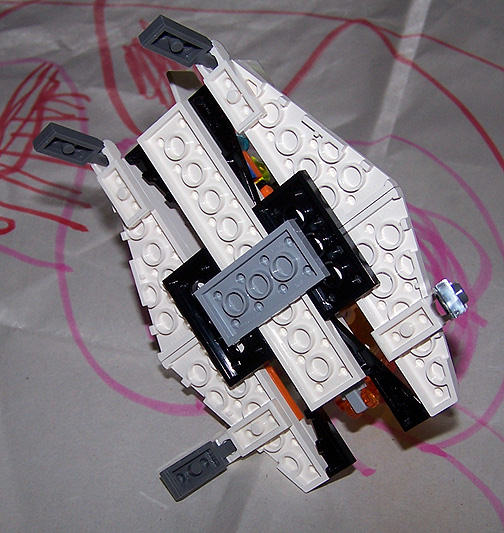 Back to

---
---
Portions of this site make extensive use of Macromedia Flash.
If you're not seeing anything above the line you may need the free Flash Player. Get it here.

This site displayed with 100% post-consumer recycled electrons.

LEGO® is a trademark of the LEGO Group, which does not sponsor, authorize or endorse this web site.
Please be sure to visit the REAL LEGO homepage at http://www.LEGO.com.

All Content ©1986-2009-through the End of Time by Christopher Doyle
|
| Read updates on your

Livejournal Friendslist