---
Back in 2001, the LEGO corporation released a new Space theme: Life on Mars. It was pretty cool. The martians were all new mini-figures not based on existing molds. They had Mechs and tube transports. The human visitors had cool minimalist exploration vehicles. Sadly, the line didn't extend into the next year's offerings and the theme vanished into the mists of time.
In 2007, LEGO tried again, this time with Mars Mission. Humans were back on Mars - looking for power crystals or something - destroying the local ecosystem to the point where an all new strain of Martians had to arm themselves for a war to defend their native land. (Okay, that's not the LEGO sanctioned story, but that's how I read this "Mining vehicles re-outfitted as combat craft" theme. Besides, LEGO likes the "creatures attack when miners disturb them" storyline - go look at the 1999 Rock Raiders sets.)
The problem? The Martian figures SUCK. The human vehicles, for the most part, are goofy. What could have been an awesome crossbreed of Rock Raiders and Life on Mars turned into...an orange and white nightmare.
Which leads me to this latest building contest from Reasonably Clever. I'm calling it: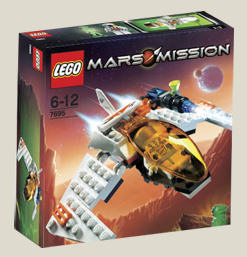 I've re-imagined the second meeting between Humanity and the Martians into something much more funky. In my world, they've come together in DISCO HARMONY. Yes, in my world the Humans and Martians are PARTYING DOWN at this very moment! It's SPACE LOVE MADNESS!
(In other words: What if the Mars Mission was one of peace instead of yet another war? What if we found new best friends on Mars? Wouldn't that have been cool, too?)
Think Alien crossed with Saturday Night Fever. With just a touch of Breakin' 2: Electric Boogaloo thrown in for flavah.
The contest ? Acquire the cheapest Mars Mission set out there, the 7695 MX-11 Astro Fighter, pictured at right. It currently runs about $5 US at most retailers, or direct from LEGO Online.
Once you have the set, you need to rework it so that it now lives, breathes, and jumps in the revised MARS REMISSION theme!
You can use extra parts if you want, you can use multiple Astro Fighters if you want. Just be sure that you use at least SOME of the parts from the base set, or you'll fare poorly in the judging stages.
HOW TO ENTER:
Take some photos of your creation and email them to Chris along with any text/descriptions you feel necessary. Remember - the judges will only have what you send to go on, so try and take photos that show off your creation in sharp focus!
After receiving your entry, Chris will post it here on Reasonably Clever for all to see.
You can enter as often as you'd like, and international entries are welcome.
DEADLINE FOR ENTRIES:
Entries must be received by Sunday, November 18th!
JUDGEMENT:
Each entry will be judged by our panel on three criteria:
Use of pieces in set 7695 (20 points)

CLARIFICATION! You will NOT be penalized for using MORE parts than just Set 7695. As long as you DO use the parts, and incorporate them well, you'll do fine.

Understanding of "Remission" theme (30 points)
General Coolness and that Funky-Fresh feeling (50 points)
WINNERS ANNOUNCED:
All entries will be judged, ranked, and commented on by November 22nd - just in time for Thanksgiving in the US.
BLING:
The winners will be sent the following: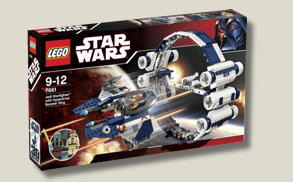 1st Prize


Star Wars set 7761 -
Jedi Starfighter

(no box)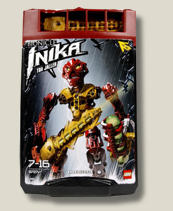 2nd Prize
(or "First Loser")
Bionicle Inaka
8727 - Toa Jaller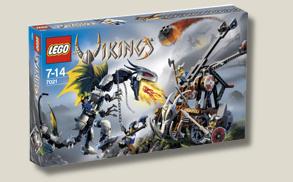 3rd Prize
7021 - Viking Double Catapult versus the Armored Ofnir Dragon
(no box)

So what are you waiting for? Go build!
THE ENTRIES:
Click on each thumbnail to view the entry!
Here's the scoring grid - the scores from our five judges were averaged. See each entry for judge commentary!
| | | | | | |
| --- | --- | --- | --- | --- | --- |
| Entry | Use of Parts | Theme | Coolness | Total | Rank |
| 1: Zack Carlson, KWS Scorpion Striker | 20 | 5 | 17 | 42 | 16 |
| 2 :George Fox, Starlite Disco DJ Station | 20 | 28.6 | 33 | 81.6 | 6 |
| 3: Wolf Read, Dance, Baby, Dance, Mobile Astro Disco | 20 | 21.6 | 25 | 66.6 | 11 |
| 4: takua-777, MX Wing | 20 | 7 | 11 | 38 | 17 |
| 5: takua-777, 2 Man Disco Walker | 20 | 15.8 | 16.6 | 52.4 | 15 |
| 6: Jordan Cross, Stunt Astro | 20 | 25.6 | 36.2 | 81.8 | 5 |
| 7: Anthony J Sunderhaus, Party Cruiser | 20 | 24.4 | 28.4 | 72.8 | 10 |
| 8: TK-1420, Sooper pimpin' Mars ReMission Lounge Chair | 20 | 23.2 | 31 | 74.2 | 9 |
| 9: Scott Albert, The Funkatron2001 | 20 | 25 | 32.2 | 77.2 | 8 |
| 10: Ian Healey, The MiX-TBL | 20 | 25 | 38.2 | 83.2 | 3 |
| 11: MonkeyBoy, DiscoRobo | 20 | 18.4 | 25.4 | 63.8 | 12 |
| 12: TK-1420, MXXX-33 Cruiser | 20 | 26 | 36.4 | 82.4 | 4 |
| 13: Jordan Cross, Disco Platform | 20 | 30 | 31.6 | 81.6 | 7 |
| 14: Chris Edwards, DISCO Robot | 20 | 28.4 | 44 | 92.4 | 1 |
| 15: Jordan Cross, Ultimate Astro Disco | 20 | 26 | 39.6 | 85.6 | 2 |
| 16: Dene Quest, Space Race | 20 | 14 | 22 | 56 | 13 |
| 17: Doug 7172, Space Limo Cruiser | 20 | 13.6 | 22.2 | 55.8 | 14 |
---
---
Portions of this site make extensive use of Macromedia Flash.
If you're not seeing anything above the line you may need the free Flash Player. Get it here.

This site displayed with 100% post-consumer recycled electrons.

LEGO® is a trademark of the LEGO Group, which does not sponsor, authorize or endorse this web site.
Please be sure to visit the REAL LEGO homepage at http://www.LEGO.com.

All Content ©1986-2009-through the End of Time by Christopher Doyle
|
| Read updates on your

Livejournal Friendslist