Serenity's Mule Hovercraft: Page 3
The interior underwent several iterations of change as I tried to get details to work at the scale I wanted. The front windows in particular were a beast. The ideal part would have been a 2x2 tile in trans-clear - but as of yet LEGO has not produced that part. Of the windows they have produced none fit the 3-stud length I needed to fill (to allow for a gap between windows) or were thick enough to fit onto clips or gripper hands.
My solution (for now, anyway) are these clear bracket pieces. they have nearly the correct height and they're spaced more or less accurately.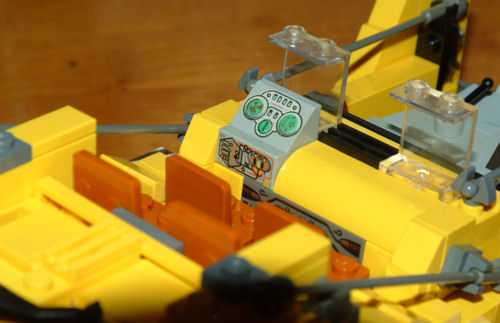 The controls were a bit easier - I had them scoped out from the first. I was pretty happy with the curved dashboard on the passenger's side.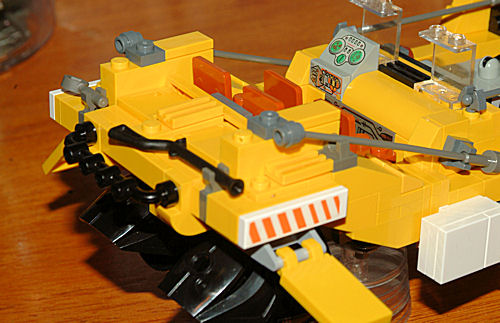 The rear end of the Mule could still use some work to make it "movie correct" but it's not too far off. There are two storage bins right behind the rear seats, matching the movie version. The grey railing along the sides is a fair match as well.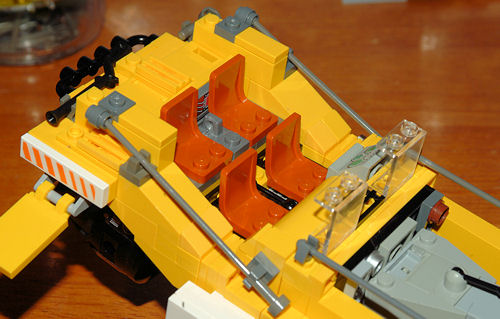 Seating was fairly easy, although I would have preferred to match the sea-foam green of the movie prop. The important thing is that the Mule will fit four mini figures - but there's no room for five...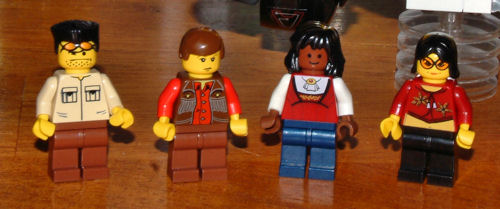 Speaking of the four, here's the mini-figures I'm using to pilot and crew the Mule. From left to right are Jayne, Mal, Zoe and River.