---
Playmobil Advent Calendar 2006- Day 1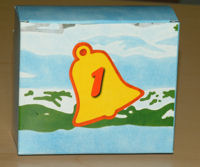 Ah, day one of a brand new Advent Calendar. Who knows what exciting fun awaits us? The first box off of the calendar is huge, too! That's got to be a good sign! I can't wait to open it!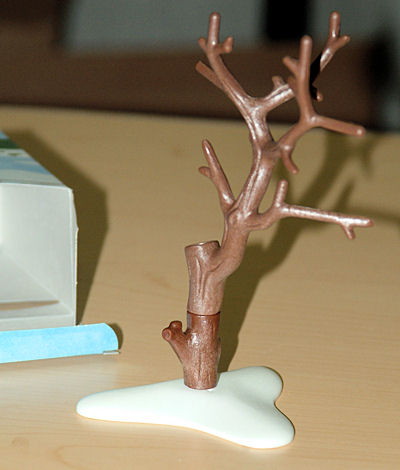 Yes! A DEAD TREE! Awesome! I don't believe that .....wait. A DEAD TREE? This is festive? This says "Happy Holidays"?
Playmobil, you're off to a very weak start. I can't even put this in a fantasy context to try and salvage things. Even a "Treant in a Box" is sad when the Treant is deceased!
Okay. Deep breath. Maybe this isn't so bad. Playmobil also gave us a backdrop to set all of our daily swag in. Maybe if I put the tree in context it will become jolly.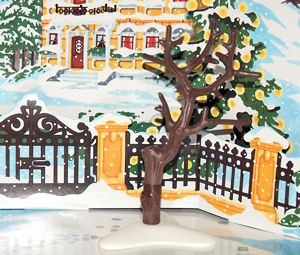 Hmmm. No. Not doing it for me. Let's try moving it to the other side of the backdrop.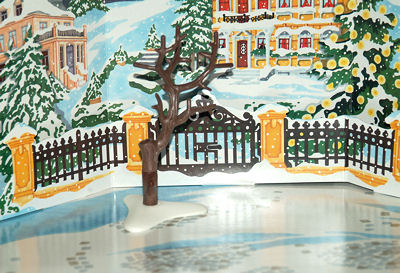 YES! There we go! Suddenly I'm filled with the Christmas Spirit and....
...no. I'm not.
Well, there's 23 boxes to go. Maybe tomorrow's toy will be cheerier.
Click here to go to the next day!
---
---
Portions of this site make extensive use of Macromedia Flash.
If you're not seeing anything above the line you may need the free Flash Player. Get it here.

This site displayed with 100% post-consumer recycled electrons.

LEGO® is a trademark of the LEGO Group, which does not sponsor, authorize or endorse this web site.
Please be sure to visit the REAL LEGO homepage at http://www.LEGO.com.

All Content ©1986-2008-through the End of Time by Christopher Doyle
RSS Feed:

| Bookmark at

Del.icio.us | Read updates on your

Livejournal Friendslist