---
Playmobil Advent Calendar 2006- Day 10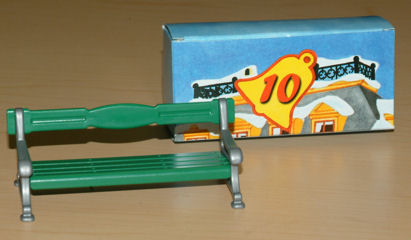 Day Ten. A moderately sized box, the prize of a park bench. At least it wasn't another woodland creature.
Sarah: This is nice. A week of standing around is enough for anyone.
Birdy: It is rather comfy.
Dogma: Well, it is Sunday ...a day of rest...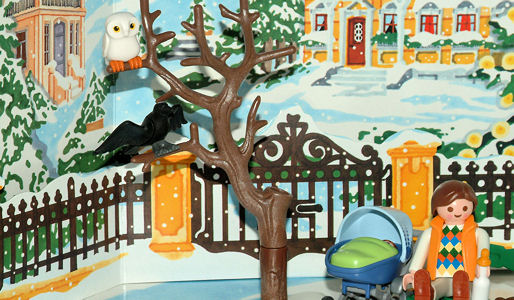 \
Ed: So, you going to claim the Park Bench as a work of evil?
Phil: Of course.
Ed: I thought as much. Is it made from pressed demons or something?
Phil: Don't be silly. It is a minion of evil and temptation just as it is.
Ed: ...I'm not seeing it.
Phil: Seven Deadly Sins. Sloth. If Sarah had been virtuous, she would have remained standing. My hold over her grows ever more powerful.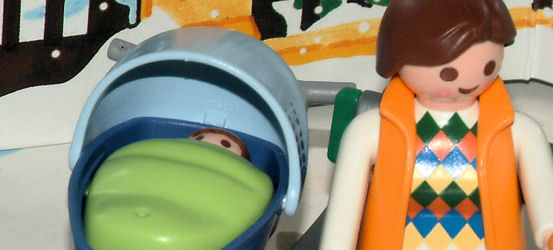 Ed: The seven deadly.....and the child? What's he supposed to represent? Lust?
Phil: No, he's a free-agent of Evil. I think he's just doing Temp Work until all the children of the world stop trying to "be good for goodness sake". He needed the rent money.
Damien (Thinking): Ah, that's what you think, Phil. That's what you think. My agenda is much more than merely covering room and board. When the time is right, I will make you understand.
Click here to go to the next day!
---
---
Portions of this site make extensive use of Macromedia Flash.
If you're not seeing anything above the line you may need the free Flash Player. Get it here.

This site displayed with 100% post-consumer recycled electrons.

LEGO® is a trademark of the LEGO Group, which does not sponsor, authorize or endorse this web site.
Please be sure to visit the REAL LEGO homepage at http://www.LEGO.com.

All Content ©1986-2008-through the End of Time by Christopher Doyle
RSS Feed:

| Bookmark at

Del.icio.us | Read updates on your

Livejournal Friendslist