---
Playmobil Advent Calendar 2006- Day 12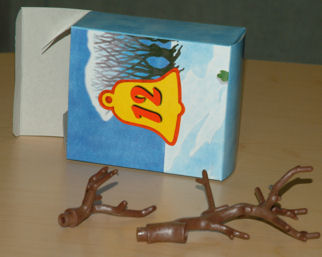 Could it be that the Dead Tree from Day 1 wasn't completely dead? Maybe it was only mostly dead...and, as the Princess Bride taught us all, Mostly Dead is still slightly Alive. This must be the case, as our Dead Tree experiences a growth spurt on Day 12.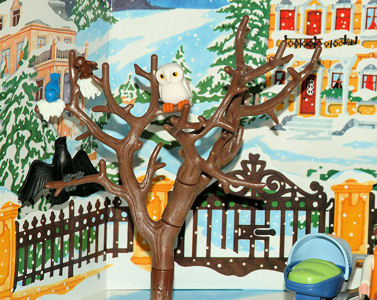 Ed: Sweet Jumping Jellybeans! Is it just me or did our tree just double in size?
Phil: It sure felt like it. And look! A ton of new branches!
Ed: I thought this tree was dead!
Birdy3: Maybe it's a zombie tree!
Ed: Yeah. That's it. More likely there's more of you freaky birds on the way. I'm moving over to the new addition.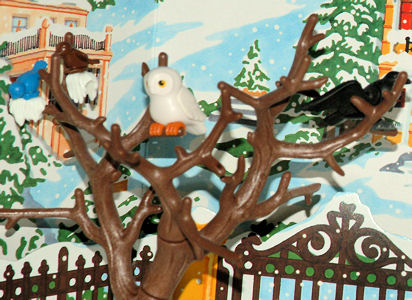 Birdy2: What of you, Owl? Will you stay or will you go?
Phil: I was here first. I'm not leaving.
Ed: Actually, I was here first, Phil. You're Day Three.
Phil: Compared to them I was still the early bird.
Ed: That's a lousy joke, Phil.
Birdy3: Yeah. Lousy.
Phil: Quiet, you.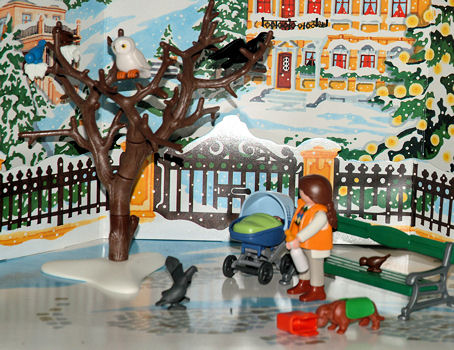 Sarah: The Dead Tree is growing. Damn, that's creepy.
Birdy: I'd be more worried about what the tree is making room for. I have a feeling things are about to get a lot more crowded.
Click here to go to the next day!
---
---
Portions of this site make extensive use of Macromedia Flash.
If you're not seeing anything above the line you may need the free Flash Player. Get it here.

This site displayed with 100% post-consumer recycled electrons.

LEGO® is a trademark of the LEGO Group, which does not sponsor, authorize or endorse this web site.
Please be sure to visit the REAL LEGO homepage at http://www.LEGO.com.

All Content ©1986-2008-through the End of Time by Christopher Doyle
RSS Feed:

| Bookmark at

Del.icio.us | Read updates on your

Livejournal Friendslist