---
Playmobil Advent Calendar 2006- Day 14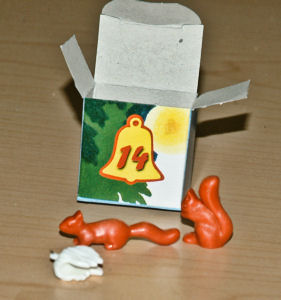 Day Fourteen. Just ten days left. And what do we have to show for it today? More of that white branch gunk and two squirrels. (What IS that gunk supposed to be? It doesn't look like snow. Maybe ice? But then why would the animals want to sit on it?)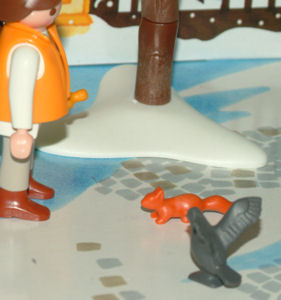 Brother Nutter the Squirrel: Man, there's like NOTHING to eat around here.
Bert: Tell me about it! I was just telling Ernie. "Ernie," I says, "there's Nothing to eat here!"
Sarah: Sorry guys. The Dog said something about sandwiches, but they've never turned up.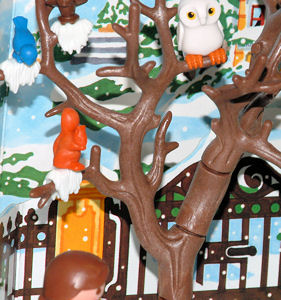 Mounds the Squirrel: Man, I could really go for a beer, too.
Birdy2: Don't you mean an acorn or something?
Mounds: Hey, sometimes you feel like a nut, sometimes you don't.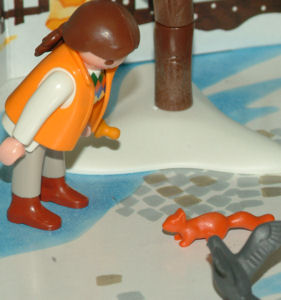 Brother Nutter: It sure is crowded around here, too. I wonder if we're supposed to do the "Food Chain" thing and start roasting up Pigeons.
Bert: Don't write checks your body can't cash, Squirrely.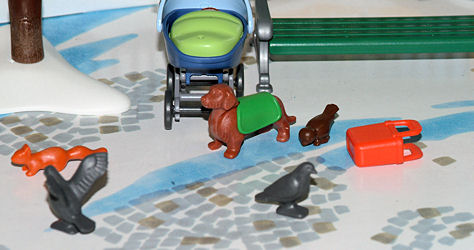 Dogma: There must be some other option before we resort to eating each other. I know a great trick with bread and fishes if anyone has some to spare...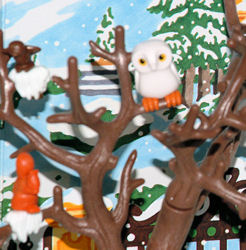 Phil: Oh, I can help you guys out. Hungry? Come see me. Reasonable rates...
Click here to go to the next day!
---
---
Portions of this site make extensive use of Macromedia Flash.
If you're not seeing anything above the line you may need the free Flash Player. Get it here.

This site displayed with 100% post-consumer recycled electrons.

LEGO® is a trademark of the LEGO Group, which does not sponsor, authorize or endorse this web site.
Please be sure to visit the REAL LEGO homepage at http://www.LEGO.com.

All Content ©1986-2008-through the End of Time by Christopher Doyle
RSS Feed:

| Bookmark at

Del.icio.us | Read updates on your

Livejournal Friendslist