2008 Mars Mission sets

Toys R Us always seems to have a few new sets out for Black Friday (the shopping day after Thanksgiving in the US). By "new sets" I mean
"sets slated for a 2008 release date"
and
"not available at the Target across the street."
This year was no exception - I counted four new kits. All of them were expansions of existing lines; two were Exo-Force, two were Mars Mission. I was tempted to pick up all four, but I was on a budget and I decided on a half-price Arkham Assylum set over the Exo-Force kits. I did bring home the Mars Missions, though.
Set 7648: MT-21 Mobile Mining Unit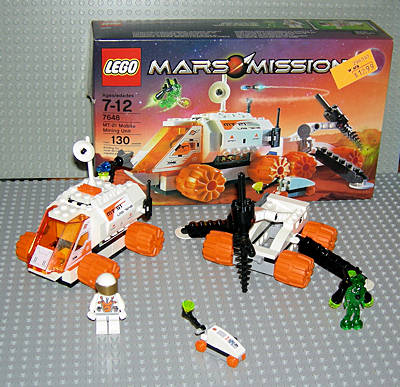 This first set was $12.99 - I'd expect to see it at other retailers for $9.99 after the holidays. (TRU seems to always have an in-store 10-20% markup on the Cool/Exclusive sets compared to even on-line prices) Not too bad for 130 pieces, a couple of which were new to me.
The set consists of a Mining Unit (Labeled MT
-21
on the box, but MT
-51
on the sticker sheet), a mobile drill, a wee mini-bot and the obligatory alien figure with jet-pack. That jet pack must be a pain to use, as it attaches by jamming the connection rod entirely through the chest of the alien mini.
Set 7647: MX-41 Switch Fighter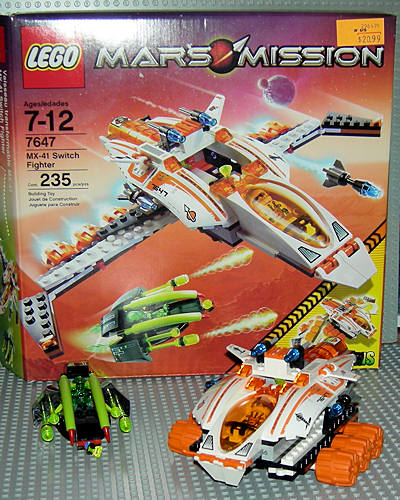 The Switch Fighter cost $20.99 - at 235 parts a slightly better per-piece deal than the Mining Unit. It comes with a small alien fighter craft and a larger human vehicle. The hook is that the bigger vehicle "transforms" between Jet and Tank modes.
It's not a bad switch - the merits of using the same part for both wheels and jets can be debated - the two modes both look like they could be "primary" model for a non-transforming kit. I'm less happy with the Jet mode as the cockpit does not lock in the "extended" mode - it tends to slosh around while swooshing. It's a fairly minor quibble, though.
Here's a shot of the jet-mode...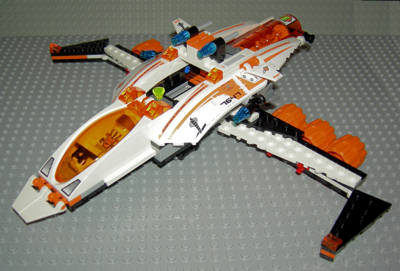 Sadly, neither kit made me as happy as the item I found at Target the following day: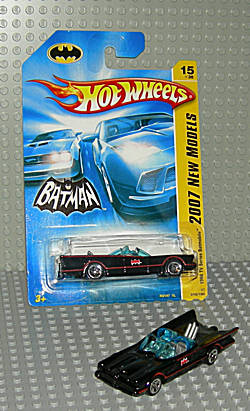 For under a buck, this little car brought a bucket of holiday cheer.
But I'm just geeky like that.
Labels: Geeking, Holiday Specials, LEGO, Set Reviews