The title says it all really. I want a new wheelchair - one that doesn't just wheel around and stuff, that's so boring. Also, it has zero street cred. So, your mission, should you chose to accept it, is to take my dull wheelchair and make it more awesome.
The winners!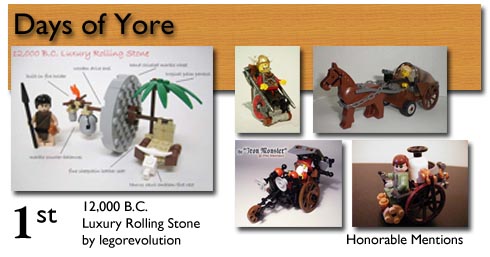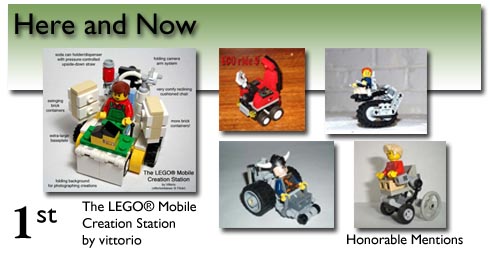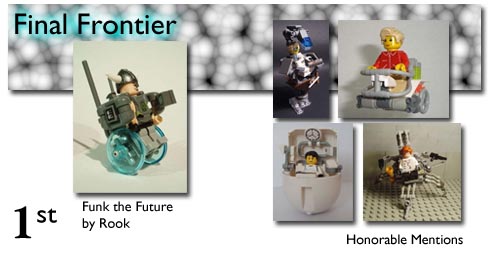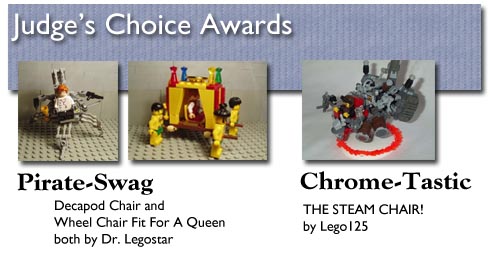 The Rules:
The latest rules (and related discussion) are contained in this BCN Post.
Virtual models are allowed for this contest.
Models posted on-line prior to 10/15/09 are not eligible for this contest.
International entries are welcome
There are several general rules:

It must still be somewhat practical indoors
Must not be a giant mecha where the user sits hidden away behind a cockpit
No artificial intelligences or robots (remote control is ok), although powerful computers are allowed
The user must still be sitting comfortably - this is for every day life, remember!
It must be constructed from only official LEGO parts/stickers. No off-brands, customs or mods this time out!

There are three building categories:

Days of Yore

Ok, so, how did I get around in the past (pre-20th Century)? Wooden medieval wheelchair? Steampunk contraption? Remember, those old world cobblestones are really nasty to wheel on, and muddy tracks impossible!

Here and Now

Possibly the hardest category because your entry must function in the real world. That doesn't mean it can't have outlandish features, but they must at least, theoretically work based on current scientific and technological advances.

Final Frontier

This is a free-for-all category. Let your imagination run wild, invent technology that doesn't exist yet that allows me to participate in every day activities that haven't even been conceived of yet.

Builders can enter each of the three categories, but are limited to one model-per-category. Each module must be original work.
Although builders can enter all three categories, they can win only ONE major prize package. In the case of a single builder taking the top slot in more than one category, that builder will select the prize that he or she desires and the remaining prizes will be awarded to the 2nd place finishers.
To Enter:
You will need to create an account on the BCN forums to enter this contest.
Once you have your account, you can post one entry to each of the three contest entry threads:
Entry posts need to contain the following information:

A name/title for your entry

A link to a single photo

(

no larger than 500x500 pixels

) of your model to be used in the entry grid.

Remember: If the judges can't make out your model, you won't score very high, so take a GOOD picture.

If you don't have your own webspace, you can host your photo for free on sites like MOCPages, Brickshelf, and Flickr.

The photo you list will be copied and stored at Reasonably Clever on 11/15/09 to prevent any "after deadline" modifications.

Optional: A text description of your model

Optional: A link to more photos of your model

COUNTRY OF ORIGIN - To qualify for either the Pirate-Swag or Chrome-tastic prizes, the builder must state his or her country of origin. Builders in North America will be entered into judging for the Pirate-Swag, and all other entries will qualify for the Chrome-Tastic award. (See PRIZES, below.)

Entries must be posted to the correct threads by MIDNIGHT Eastern Standard Time on 11-15-09. At midnight, entry threads will be locked to prevent late entries and changes.

Please note that it can take up to 24 hours to activate a BCN account, so if you want to enter a last minute model be sure to set up your account early. In fact, why not do it now?

All eligible BCN accounts submitted by 11/14/09 will be activated by noon on 11/15/09.
"My last minute account wasn't activated" is not a valid excuse for a late entry and we will laugh at you if you try and use it. If you don't post to the thread in time, you're not playing. That's the rule.

On 11/16/09, Final Entry Grids will be posted to Reasonably Clever and ranking of contest entires will begin.
Winners will be announced on or before 11/26/09, with prizes being mailed shortly thereafter.
Judgment and Scoring:
Each model will be evaluated by three judges
Each judge will pick and rank the top five favorite models in each category.
Rankings will then be tallied and overall winners decided.
Prizes:
And the prizes just keep getting more glorious!
In addition to the above, each winner will ALSO receive a PRINTED Tranquility Base 1x8 Brick as seen below! Only 17 in existence! How cool is *that*?