---
Nite-Owl's Owlship
page 5
Bridging the exterior and interior play features is the removable roof of the Owlship.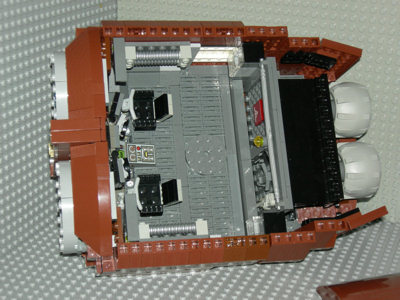 (Click for larger view)
As you can see, there's a lot of open space in the interior - I based that on the number of people they were able to cram inside during the fire rescue scene in the comic. Remember, the scale is off by about 15% anyway.
Here's a look at those side hatches from the inside...

The rear of the craft is loosely based on the movie interior - tools and an access way to the engine area.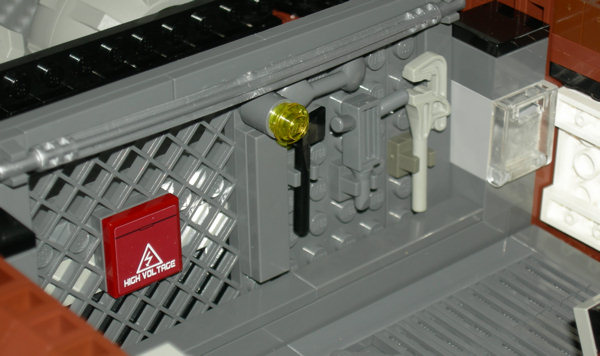 There's a small box/compartment on either side of the rear wall - perfect for storage of special mission equipment or maybe a coffee dispenser...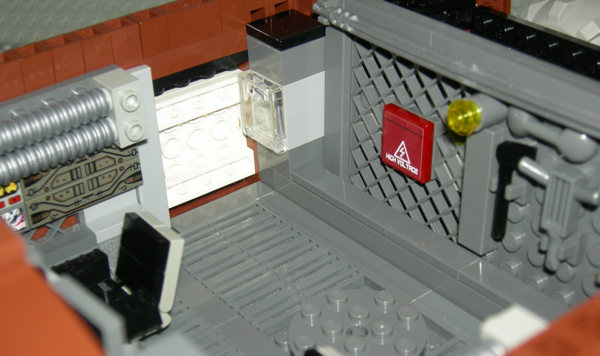 Version Three corrects the scale issues while remaining as true to the comic as possible:

(Click for larger views)
---
---
Portions of this site make extensive use of Macromedia Flash.
If you're not seeing anything above the line you may need the free Flash Player. Get it here.

This site displayed with 100% post-consumer recycled electrons.

LEGO® is a trademark of the LEGO Group, which does not sponsor, authorize or endorse this web site.
Please be sure to visit the REAL LEGO homepage at http://www.LEGO.com.

All Content ©1986-2009-through the End of Time by Christopher Doyle
|
| Read updates on your

Livejournal Friendslist