---
Snack-Sized Serenity
Free Instruction Downloads
There is plenty (okay, "some") crossover between fans of LEGO and fans of Serenity. Some of you, I'm sure, have more than enough parts on-hand to tackle making a Serenity of your own.
If that description fits you, or even if you're just curious as to what sort of process is involved in making a ship like this, this section will be pretty useful to you.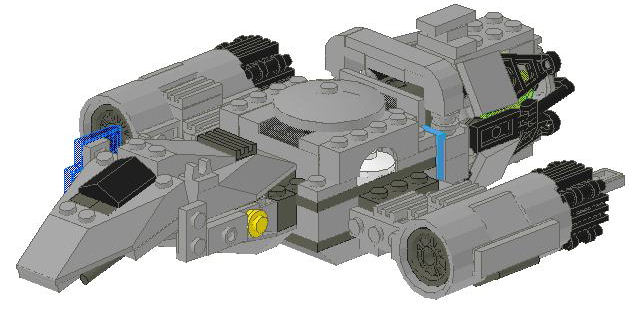 As I mentioned on the home page, I went to the trouble of trying to convert the real-world Snack-Sized model into LEGO CAD format. The resulting conversion let me (with a bit of work) count parts and even provide illustrations for a building guide.
For those of you without the LEGO CAD software, I suggest you head on over to http://www.LDraw.org - that's where I got all my stuff. It's a free download, and there are plenty of great tutorials to get you started.
Anyway, here's the main file if you'd like to explore it: Snack Sized Serenity.mpd (Revised on 11/15 to fix some problems)
For those of you who aren't exactly thrilled at the prospect of having to learn LEGO CAD to build your own Serenity, I have files for you as well.
Here's a Step-by-Step Guide to Assembly (3.8 Meg PDF File, Revised 11/15) just like the ones the LEGO company makes. Okay, LEGO makes much better ones. But there's enough info in there to get just about anyone started. The COMPLETE PARTS LIST is makes up the first few pages. And you can always email me if you get stuck.
Best of luck, and let me know if you spot any ways I could improve the model!
Stabilized Snack-Sized Serenity

A major upgrade in terms of Stability and Swooshibility.

The engines now rotate the full 360°, the wings and neck are reinforced, and the light-ring and firefly drive are locked together - keeping the drive vanes from coming loose.

In addition, there is improved detailing on the engines, firefly drive, and new running lights.

Download the new instructions (2 meg PDF)
---
---
Portions of this site make extensive use of Macromedia Flash.
If you're not seeing anything above the line you may need the free Flash Player. Get it here.

This site displayed with 100% post-consumer recycled electrons.

LEGO® is a trademark of the LEGO Group, which does not sponsor, authorize or endorse this web site.
Please be sure to visit the REAL LEGO homepage at http://www.LEGO.com.

All Content ©1986-2009-through the End of Time by Christopher Doyle
|
| Read updates on your

Livejournal Friendslist