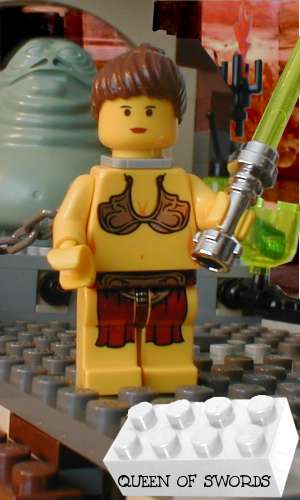 Divination:
This card designates skill, accuracy, insight, and knowledge. Also etiquette, propriety, honor, and good judgment.
---
Author Commentary:
Okay, so I cheated a bit. I wanted all Star Wars characters as Court cards for Swords, and Leia had to be the queen. But, she didn't exactly have a lot of sword play in the trilogy. Post Jedi, yes. But post-Jedi continuity has it's own problems. (Chief Chirpa's face on the twenty dollar bill?)
Anyway, just as I was assembling the deck, LEGO released a Leia mini-fig in the most fan-boy requested outfit ever. So I stuck a lightsaber in her hand and took a picture.
Wouldn't you?