Anyway, Chuck is a major reason for this version of the Brick Tarot. When I was looking for an iconic image for the Magician I remembered my wife's recent birthday party. Chuck provided the evening's star attraction as a fire eater/breather. It was, as you can imagine, quite the evening. Chuck dazzled us by breathing fire, eating fire, and even putting fire into the palms of our hands. Nothing quite says action, power and concentration than eating and breathing fire.
If there's anyone in my life who I feel qualifies for the title of "Magician" it's Chuck.
Chuck fits the the "Conscious Awareness" portion of the card as well. His life has been one of great personal challenges. If I had gone through half of what he's been through I would be even more bitter than I already am. Chuck, however, has a joy de vivre that shines through in just about everything he does.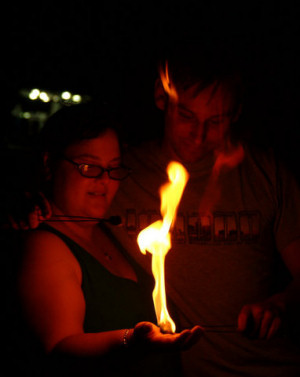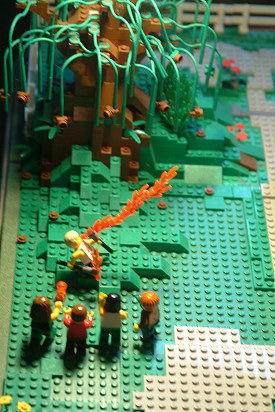 As to the card itself - the Chuck Mini-Figure is showing his stuff near the Shrine of the Lost Meatball at the Church of the Flying Spaghetti Monster as you can see in the above pulled-back shot.

If you squint really hard you can see Whiskey Tango from BRiCK House checking out the show on the far right.

I was really tempted to try some digital enhancements on the LEGO fire, but I settled for just playing with the contrast a bit.