VS

Holiday Transformation Challenge
The final Reasonably Clever Challenge of 2007 is here!
Your job? Build a Holiday Themed Transformer out of LEGO bricks!
Maybe you'll make a Decpticon tree that changes into a robot. Maybe you'll create an Autobot Santa who is also his own sleigh.
Use your imagination, or just watch all those sappy Christmas movies that are on constant rotation on TV these days and drink heavily. It's all the same to us!
Whatever you build, you need to send (CLEAR!) photos of it, along with a short text description to bat_hero@hotmail.com by
Midnight, December 31st (EST)!
Entries will be judged on three criteria:
| | | |
| --- | --- | --- |
| Holiday Mode | Robot/Alternate Mode | Coolness |
| 25 Points | 25 Points | 50 Points |
Enter as often as you like, international entries are welcome.
Why bother? Because you might just win...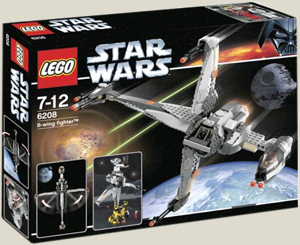 1st Prize: LEGO set 6208: Star Wars B-Wing Fighter!
(no box)
or one of THREE 2nd prizes of a Bionicle Inaka 8727 - Toa Jaller
What are you waiting for? Time's running out...go BUILD!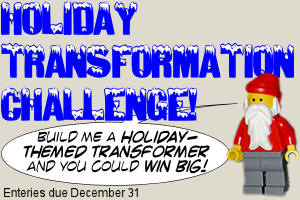 Check the BLOG for the lastest info!
---
Here's the Grid of Entries! Click on each to read about each one!
In addition, there were a couple of non-eligble entires of note:
In-Progress Creations by Phillip Thorne
---
Oh! And here are a couple of Wallpapers for your desktop. Each is at 800x600. Click to open.