---
Building the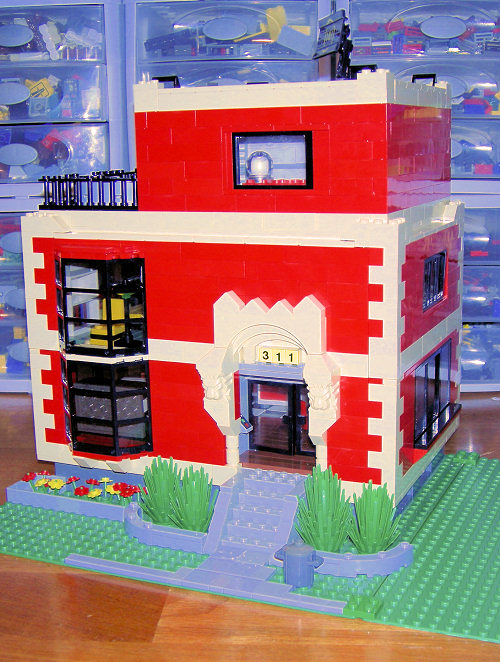 Creativity strikes me in strange ways some days. After the success of the 2005 Advent Calendar storyline, and after enjoying Buggy's Comic and its take on LEGO concepts, I wanted to try my own hand at a more "formal" web comic. My initial concept was to make fun of the ongoing "Reality TV" boom - but I soon realized that the idea of a parody of the genre had already been done many times over. What I was left with was just a title: BRiCK House.
I decided that the core "funny" of the 2005 calendar was the ongoing story - so I cut back the concept to the barest bones. I'd build a house, start up some sort of situation - and then just see where the characters took me.
So now I had to build a house.
Other than the Church of the FSM, I hadn't done much in the "Town" building theme. I had seen some masterful LEGO creations on Brickshelf and even a few in person - and I figured I could probably cobble something together that at least looked decent. And, the medium being LEGO bricks, if things didn't work out I could always just rebuild things between episodes.
This section of the site covers the first take on the BH - a look at the interior details and features, all written before the first cast member walked in the door.
First, let's take a look at the front of the building. The first thing you'll notice is that it's sort of isolated - the house sits on one standard green base plate, but the landscaping had already snuck out one stud into the neighbor's yard. The sidewalk at the front was also roughed in, but would be modified when the street base plate was added to expand the scenery.
The House is three stories atop a furnished basement. We won't be seeing the basement at this stage, although there are windows along the foundation that give a hint as to the layout. There's also a rug on the first floor with a hidden feature that we'll mention in a bit.
Back to the building - the front path has stairs leading up to a covered foyer. There's a keypad to work the electronic locks on the front doors to the left and a mailbox drop to the right (see below). The street number is "311" - mainly because I was able to find those three numbers in my collection of tiles.
| | |
| --- | --- |
| | |
| Keypad for entry | The mail drop box |
If you look in through the windows you can make out a few interior details - it was important to me to actually "fill" the house with the interior sets rather than building them separately - little details like that make me happy.
So ...shall we continue our tour of the exterior?
NEXT PAGE or Navigation: [ 1 2 3 4 5 6]
---
---
Portions of this site make extensive use of Macromedia Flash.
If you're not seeing anything above the line you may need the free Flash Player. Get it here.

This site displayed with 100% post-consumer recycled electrons.

LEGO® is a trademark of the LEGO Group, which does not sponsor, authorize or endorse this web site.
Please be sure to visit the REAL LEGO homepage at http://www.LEGO.com.

All Content ©1986-2009-through the End of Time by Christopher Doyle
|
| Read updates on your

Livejournal Friendslist