---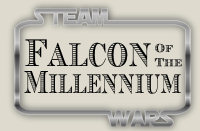 The Engine
The heart of any Steampunk creation is the steam engine - and my Falcon is no different. The center of the ship is dedicated to a huge boiler. Two steam-driven pistons power the giant propellers on the side of the ship, and twin steam lines feed the front-mounted turbo-props. And the best part? The gearing actually works!
First, though, here's a detail shot of the entire engine layout.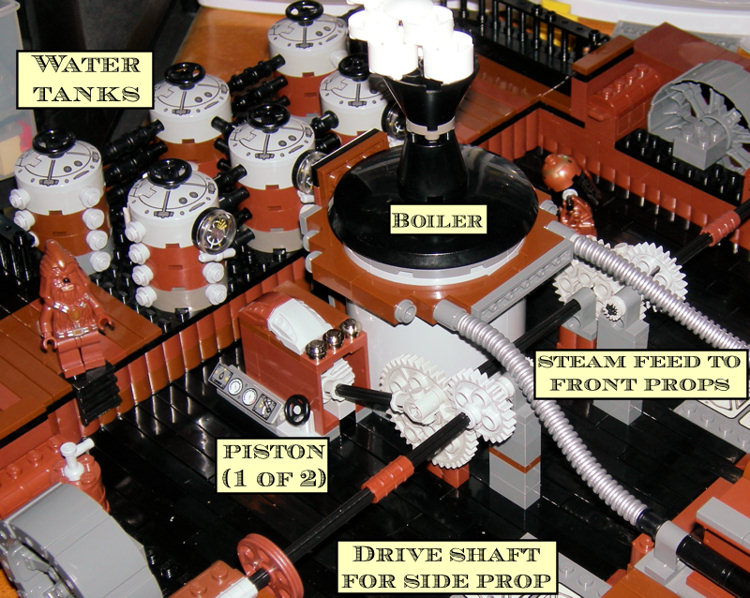 The first thing you need for steam power is water. The Falcon stores its supply in six pressurized containers on the rear deck. The six towers replace the six portholes on the Star Wars Universe version - an important visual link between the two ships.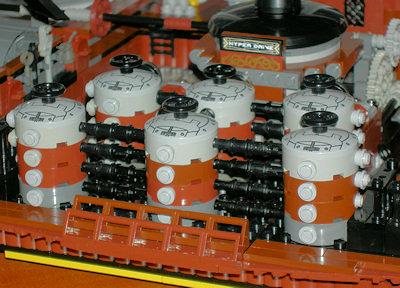 All six water towers are linked together with redundant piping. The middle tank in the front row (closest to the boiler) feeds the water into the rest of the system. (Shown in the Piston detail photo, below.)
The boiler is the next part of the process - as seen in the next photo, the Steampunk Falcon uses a "Hyperdrive" brand boiler. The more things change, the more they stay the same.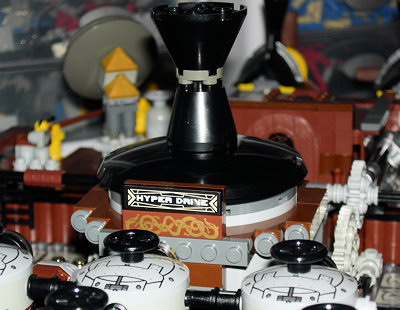 The boiler feeds the rest of the system the steam it needs to live, breathe, and jump. Raw steam is fed to the engines in the front, but the two lifting propellers on the sides get their motion from pistons hooked directly into the boiler.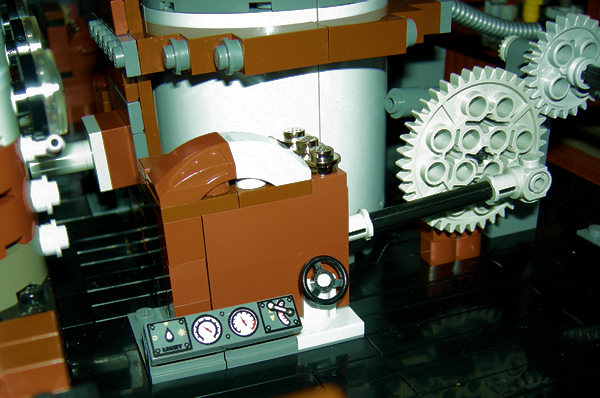 Here's one of the piston boxes with the drive arm powering the starboard propeller. The power level on the piston can be adjusted remotely from the cockpit, but in case of emergency manual adjustments can be made from the controls shown here.
If you're interested in seeing the system in motion, now would be a good time to click on the "Movie" link, below. It goes to a short (10 second) demo of me hand-cranking one of the propellers to demonstrate how everything fits together.
Afterwards, come back to page five where we'll be taking a closer look at the propeller systems.
[ Next ]
[ 1 2 3 4 5 6 7 8 9 10 11 ] [ Movie ] [Discuss]
-4-
---
---
Portions of this site make extensive use of Macromedia Flash.
If you're not seeing anything above the line you may need the free Flash Player. Get it here.

This site displayed with 100% post-consumer recycled electrons.

LEGO® is a trademark of the LEGO Group, which does not sponsor, authorize or endorse this web site.
Please be sure to visit the REAL LEGO homepage at http://www.LEGO.com.

All Content ©1986-2009-through the End of Time by Christopher Doyle
|
| Read updates on your

Livejournal Friendslist