---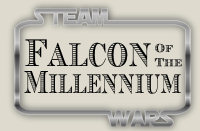 Cargo Deck
The Falcon wouldn't be the same if she couldn't carry cargo - happily, the Steampunk Falcon has plenty of room dedicated to doing just that. There is plenty of deck space around the engine for staking boxes and crates.
Just aft of each wedge is a reinforced plate to hold heavy cargo - optimally placed to keep the craft balanced. The studs around each plate have been left uncovered to allow for easy attachment of chains to keep things from moving around while in fight.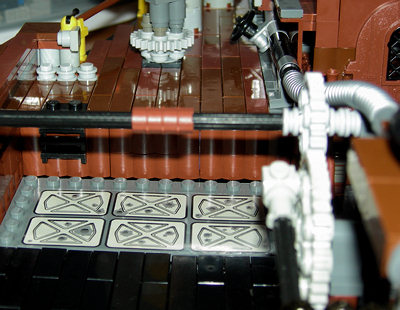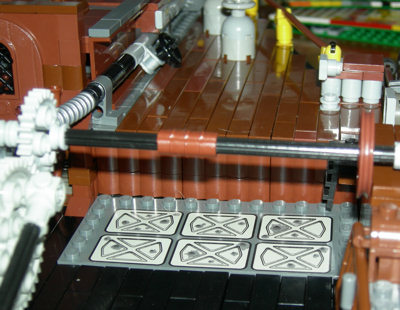 Here's a shot of the fully loaded cargo area: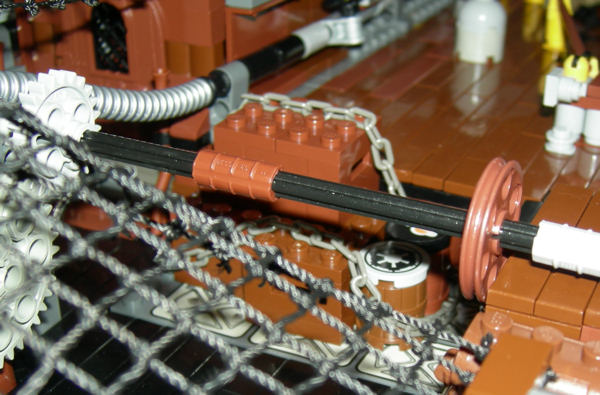 In between the two wedges is the ship's main cabin. This area leads to the crew quarters (one inside each wedge) and serves as a lock down point for cargo deemed too sensitive (or fragile) to leave out on the main deck. On either side of the cabin door is a spare rifle in case trouble comes-a-callin'.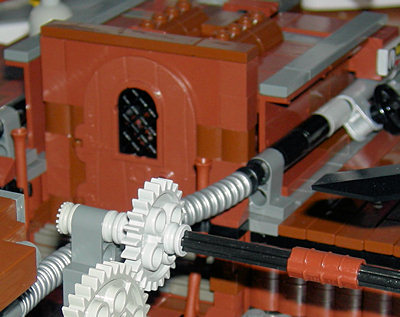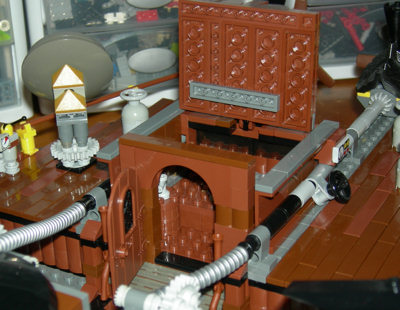 For play, the roof of the cabin area opens up to allow easy access. Sadly the crew quarters are imaginary. Eh, they'd be a real pain to get to in any case.
Moving to the port side, aft of the propeller drive shaft, we find the following mechanic's station.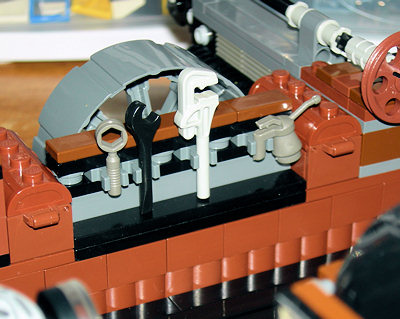 Nothing too fancy about it - but if you look to each side you'll notice a LEGO treasure chest is built into the wall. Remember I mentioned smuggling compartments? Well each of those chests just might be loaded with treasure. Or not. You never know.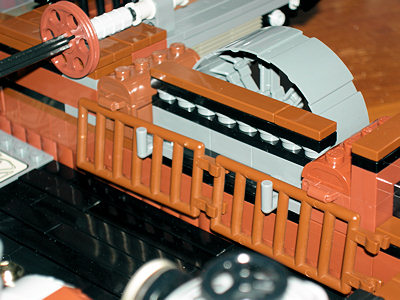 On the starboard side we have a rack holding the boarding ladder. Most upscale Steampunk landing bays will have ladders and cranes to make loading and unloading cargo and passengers easy - but it's always a good idea to have a way down on hand more elegant than "jump for it."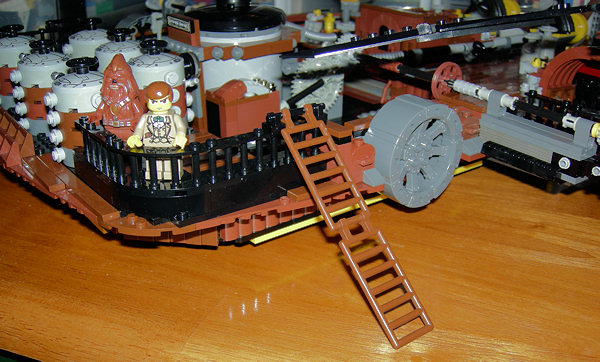 The ladder can be easily attached to the railing around the rear observation deck. If we follow the ladder we can meet our captain and co-pilot on that deck now!
[ Next ]
[ 1 2 3 4 5 6 7 8 9 10 11 ] [ Movie ] [Discuss]
-7-
---
---
Portions of this site make extensive use of Macromedia Flash.
If you're not seeing anything above the line you may need the free Flash Player. Get it here.

This site displayed with 100% post-consumer recycled electrons.

LEGO® is a trademark of the LEGO Group, which does not sponsor, authorize or endorse this web site.
Please be sure to visit the REAL LEGO homepage at http://www.LEGO.com.

All Content ©1986-2009-through the End of Time by Christopher Doyle
|
| Read updates on your

Livejournal Friendslist