---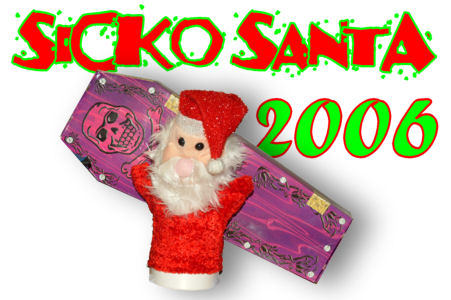 If you work in an office in the United States, December often means a round of "Secret Santas". This is a "fun" little activity where you draw a co-worker's name out of a hat (often with a list of "suggested" gifts) and then give them small gifts for a week or two. Then you reveal who had who in an orgy of shame and dashed expectations.
Well, we have a "Secret Santa" exchange at my office. But there's a small group of us who find we crave more excitement out of our holiday activities. In 2005 a daily challenge to see who could bring in the strangest item began between a Vice President and myself. There were a few odd items, but for the most part the focus was on strange food. Squid Jerky. Dried fish and nuts. Jelly-filled marshmallows. Another variety of squid jerky. The infamous Jones Soda holiday flavors. If it was only vaguely edible, it was brought in and shared. If we couldn't read the packaging and had to guess as to the actual contents from a poorly translated ingredients list...so much the better.
And thus, in nausea and fear, "Sicko Santa" was born.
This year we have a larger pool of participants - our "Elves" - and the whole month of December to share out exotic (but hopefully edible) treats. Each day I'll share our reactions to yet another "tasty treat." We suffer so you don't have to!
1

2

3

4

5

6

7

8

9

10

11

12

13

14

15

16

17

21

22

23

24

25!

26

27

28

29

30

31

---
---
Portions of this site make extensive use of Macromedia Flash.
If you're not seeing anything above the line you may need the free Flash Player. Get it here.

This site displayed with 100% post-consumer recycled electrons.

LEGO® is a trademark of the LEGO Group, which does not sponsor, authorize or endorse this web site.
Please be sure to visit the REAL LEGO homepage at http://www.LEGO.com.

All Content ©1986-2009-through the End of Time by Christopher Doyle
|
| Read updates on your

Livejournal Friendslist